Hayward, Wisconsin & Chequamegon Bay Fishing Report 11-3-19
 | November 3, 2019
When you talk about October fishing in this country, the conversation usually turns to big muskies.  This is no doubt the time of year when you have the best opportunity to catch a giant with the biggest fish looking to chow down before ice up.  As the water cools into the 40's live bait becomes the most consistent choice, and dragging a sucker or two while casting big crankbaits and jerk baits to structures adjacent to main lake basins is a solid method for encountering fish.  If you're in lakes that have a cisco/whitefish forage base, you'll want to use silver, white, blue, etc. to match the hatch.  River fish can be a bit different however with faster techniques like pitching buck tails still producing fish late into the fall.  I had the privilege once again to be a part of the Bayfield County Cast & Blast put on by the Wounded Warriors In Action (WWIA).   Heroes Pat Garrett and Jarrett Razon were my guests for a day of slinging for skis, and they were more than up for the challenge.  Pat earned his Purple Heart in 2003 while serving in Iraq and Jarrett earned his in 2012 while serving in Afghanistan.  To say these US Army vets deserved a shot a musky is an understatement.  Well, they ended up putting 4 fish in the net including a thick mid 40's fish landed by Jarrett on a Bait Rigs Viper buck tail.  It was a fantastic day with a couple of awesome dudes.  Thanks for your service and sacrifice fellas, and thanks to all who help put together this great event!
474 – Wounded Warriors in Action Foundation stage event in Finger Lakes Region
In this episode an article from the Finger Lakes Times of Geneva Lakes, New York titled: BROTHERHOOD BONDING: Sportsmen welcome veterans for fellowship in the great outdoorsis featured. It was submitted by Susan Clark Porter and it tells about a project conducted by the Wounded Warriors in Action Foundation. It involved treating five wounded warriors from around the country to a three day deer and duck hunting adventure in the Finger Lakes region. Hope you enjoy the story. It involves a Vietnam Veteran who volunteered his time and expertise who helped make the event a success.
Podcast: Play in new window | Download
HOTH Mission
ABOUT THE MISSION:
Patriots, the Patriot Guard Riders have been requested by the Wounded Warriors in Action Foundation to Escort 12 Wounded Warriors "Purple Heart Recipients" back from their Waterfowl Hunting Trip. Wounded Warriors in Action Foundation (WWIA) is a national 501(c)(3) public charity that devotes all of its energy and resources to supporting the men and women wounded in combat who were awarded the Purple Heart medal. WWIA supports these phenomenal Heroes by providing them with the opportunity to participate in world-class outdoor sporting activities at no cost to them. They do this as a means to recognize and honor their sacrifice, encourage independence and connections with communities, and promote healing and wellness through camaraderie and a shared passion for the outdoors.
PRIMARY STAGING DETAILS: 01-13-19 
Staging Time: 07:30 AM

Kilmarnick West Side Athletic Club
101 Wimbledon Court
Powells Point, North Carolina 27966
Ride Captain:
David "Boweavel" Chappelle
H – 252-232-2429
C – 757-681-3622
Assisting:William " Nightshifter" Gardner, Doug SellsRoy " Highwinder" Hankinson
Special Instructions:
This is a joint North Carolina and Virginia PGR Mission. N.C. Patriot Guard will escort these Warriors from Powells N.C. to the N.C. Welcome Center, and turn over to the Va. Patriot Guard. Va. PGR will complete the escort to the Norfolk International Airport.
Mission Brief 08:00 am.
KSU 08:30 am.
Ensure all flag mounts are secure for highway speeds.
This will be a LEO escorted event.
Flags & Water:
Flags will be provided
If you have large bike flags, please bring them.
Water WILL NOT be provided, please bring your own.
STAGING #2 DETAILS: 01-13-19 
Staging Time: 09:00 AM

N.C. Welcome Center
106 Caratoke Hwy.
Moyock, North Carolina 27958
Ride Captain:
Ride Captain TBD
Special Instructions:
Set the Flag line for the arrival of the Escort 0915.
Kick Stands Up 10:15 am. Escort from The N.C. Welcome Center 106 Caratoke Hwy. Moyock N.C. To Norfolk Airport.
Ensure all flag mounts are secure for highway speeds.
Special Note; Safety is our utmost priority. Every effort possible is made in planning and executing the PGR mission statement in a manner that minimizes dangers of riding a motorcycle, including riding in groups of all sizes and any situation. While the NCPGR and it's riders have a remarkable safety record in the execution of our missions, infrequently members have been injured in unforeseen accidents. In an effort to mitigate the risk of preventable accidents, All Attendees Who Wish To Ride In A Patriot Guard Escort OR Ride Are Asked To Attend The Pre – Mission Briefing. It will include a safety briefing, and any unique ride information known to the RCIC that may be specific to the mission. Member safety and well-being is always a principal ongoing concern, our RCIC'S are asked to stand – down from any mission that cannot be accomplished in relative safety or unreasonable risk. This includes both rides and flag lines in inclement weather and conditions. It remains each individual PGR members responsibility to ride within their own comfort zone and be cognizant of their surroundings and skill limitations as well as any physical need or limitations. If the ride/or mission conditions present challenges beyond your skill, comfort, or needs you are expected to exercise good judgment in forgoing any planned participation.
Flags & Water:
Flags will be provided
If you have large bike flags, please bring them.
Water WILL NOT be provided, please bring your own.
COMMUNITY JOINS TOGETHER TO WELCOME PURPLE HEART RECIPIENTS FOR EIGHTH ANNUAL NORTH CAROLINA WATERFOWL EVENT.
In support of the WWIA Foundation and America's combat wounded Purple Heart veterans, Beach Realty & Construction / Kitty Hawk Rentals and the homeowners of "Southern Comfort" hosts a group of Purple Heart recipients in a Soundfront historic hunting lodge in Powells Point, NC from January 9th – 13th, 2019 for the EIGHTH Annual North Carolina Waterfowl Event.
Event organizer, Brook Sparks of Beach Realty & Construction / Kitty Hawk Rentals, explains,
"The impact this event has on the community is astounding – we all share a common desire to show our appreciation to our veterans. This annual hunt has provided an outlet to show that appreciation for me and many others. Each year, I take great pride in involving AS MANY people & businesses as possible. The hunt has turned into something that the entire community looks forward to. Each contribution makes a substantial difference on the Hero Experience.
I am overwhelmed with the generous contributions from the following local businesses: Currituck Sports, Currituck BBQ, BJ's BBQ, Spanky's , Cindy's Kitchen, Coinjock Marina, Coastal Water, Cotton Gin, Lee's Septic & Land, Larry Beasley and his crew of guides, Pepsi Bottling Ventures of Elizabeth City, Currituck County Tourism, Kitty Hawk Starbucks, Bazemore Septic, Image Advertising, Kelly's Tavern (Chesapeake), Red Sky Café, Moneysworth linens, Blue Point, Donut on a Stick, Clean Team, Dorothy & Anthony Twiford, Currituck County Republican Party, Twiford Funeral Home, Billy Rose, Casey Rose Schmid, Shannon Electrical Service, Hardees in Grandy and Beach Realty. Currituck County's Chief Deputy, Jeff Walker, has helped tremendously by offering to transport the food to Aydlett each morning very early. Currituck County's Sheriff's office will, once again, aide in the escort hosted by Ride Captain, David Chappelle and the North Carolina Patriot Guard.
I am also thrilled to involve our younger generations as classes from both Moyock Elementary and Heron Pond Montessori school will welcome the Hero's with letters and handmade thank you notes. Also, Boy Scouts Troop 117 will provide snacks and treats for the hunt as well as do all the heavy lifting for the event!
There are too many private donors to mention – thank you ALL for the countless contributions which make this year's event even more special!"
SHOW YOUR SUPPORT AND STAND WITH OUR HEROES
On Sunday January 13th, 2019
At 8:30am sharp on Sunday, January 13th, the Patriot Guard, along with Currituck Sheriff's Deputies, Fire Departments and local bikers, will be escorting these heroes North along on Caratoke Hwy 158. They will be departing from the Kilmarlic Club in Powells Point (8:30a) to the Virginia State line. The significance of the escort is great. Symbolically, we (bikers and citizens) are protecting the very individuals that have protected us and paid the price. Once the group leaves the state line, they will be traveling to the Norfolk Airport. Please, as in years, past, gather in visible locations along Caratoke Hwy to show your support. These amazing men have sacrificed so much to protect us, please take a moment to honor those who have served to protect our freedom. For more information on this event please visit beachrealtync.com/wwia. For more information on the WWIA Foundation, please visit: WWIAF.org
The Wounded Warriors in Action Foundation Inc. (WWIA) serves our Nation's combat wounded Purple Heart recipients by providing world-class outdoor sporting activities as a means to recognize and honor their sacrifice, encourage independence and connections with communities, and promote healing and wellness through camaraderie and a shared passion for the outdoors.
Wayne Brewer: Wounded warriors experience the Finger Lakes
The Finger Lakes Ducks and Bucks Event is held annually in partnership with the Wounded Warriors In Action Foundation and hosted by the Kuneytown Sportsmens Club. The event honors wounded Purple Heart recipients from across the United States with the goal of facilitating outdoor recreation as a form of respite, restoration, recreation and camaraderie for our nation's combat-wounded heroes. During this year's fifth annual event, held the week before Veteran's Day, five Purple Heart recipients experienced three days of guided whitetail deer and waterfowl hunting. The wounded warriors had the opportunity to observe Seneca County's white deer, take a buck with a crossbow, hunt waterfowl and participate in a hunting trip the first time since their injuries. Best of all, the wounded warriors and their guides made life-long memories.
The wounded warriors stayed at a house on Cayuga Lake that was donated by a family for this event. During their stay the wounded warriors dined on the game they harvested. They also learned about game preparation and cooking from Cornell Cooperative Extension nutrition educator and creator of Wild Harvest Table, Moira Tidball. Wild Harvest Table is a resource for game and fish recipes, nutrition information and preparation techniques.
The three-day hunting trip ended with a banquet at Kuneytown Sportsmens Club to honor the heroes and to raise funds for future events.
In his opening remarks, Master of Ceremonies Keith Tidball, Chapter Leader for the Wounded Warrior In Action Finger Lakes Chapter, stated said the following: "Over five years ago, when we saw an opportunity to host combat, wounded warriors, Purple Heart recipients, men and women who have bled for our freedom and our way of life, who have defended our rights to life, liberty and the pursuit of happiness, and especially in our case the happiness that comes with pursuit of fish and game in field, forest, lake or stream, well, we literally jumped at the opportunity."
Another important guest at this year's banquet was retired Army Lt. Col. John McDaniel, who is the founder and president of Wounded Warriors in Action. McDaniel felt that his service to the nation was not yet finished and in 2007 he established WWIA. He started as a concerned citizen taking a few wounded warriors out on hunting and fishing trips, but quickly saw that the need for this kind of healing was greater than he could support on his own. In 2009 WWIA was granted 501 (C)(3) nonprofit status and has been changing the lives of American Heroes across the country ever since.
The goal of WWIA is to make a difference in the life of a Purple Heart veteran by providing world-class outdoor sporting activities to the wounded warriors to assist in their recovery efforts at no cost to them. The sporting activities are a means to recognize and honor their sacrifice, encourage independence and connections to communities, and promote healing and wellness through camaraderie and a shared passion for the outdoors.
WWIA serves over 200 Purple Heart recipients each year at over 50 events across North America. Some of the events include guided waterfowl hunting in Maryland; duck, goose, pheasant and chucker hunting in Alabama; deer, wild pigs, pheasant and coyote hunting in Wisconsin; turkey hunting and wild hog in South Carolina; spring turkey hunting in Florida; turkey hunting in Virginia; cast and blast in Kansas; turkey hunting in Tennessee; inshore fishing in Texas; bill fishing in Mexico; halibut fishing in Alaska; bass fishing in Kentucky; bear hunting in Maine and walleye fish in Lake Erie.
The Purple Heart is awarded to members of the armed forces of the United States who are wounded by an instrument of war in the hands of the enemy and posthumously to the next of kin in the name of those who are killed in action or die of wounds received in action. It is a combat decoration that McDaniel said was a medal no one wants to receive, but everyone greatly honors.
The honored guests at this year's Finger Lakes Ducks and Bucks were: Reserve National Guard Staff Sgt. Derek Van Buren, who suffered multiple shrapnel wounds and traumatic brain injuries a Russian portable, reusable unguided shoulder launched anti-tank rocket-propelled grenade launcher, which hit his gun truck in Afghanistan; Marine Cpl. William "Bill" Ring, who suffered shrapnel wounds and PTSD in Vietnam; Army Staff Sgt. Wesley Black E6, who has PTSF, TBI and is partially deaf in his right ear from an IED blast and also has stage 4 colon cancer with a portion of his intestine removed (Wesley is an active firefighter and EMT); Army Sgt. 1st Class Micah Welintukonis, who was shot in his left arm and took a direct hit from a suicide bomber with shrapnel in his left arm, face and abdomen in Kosovo that put him in a medically induced coma for two weeks and suffers from TBI; Army Staff Sgt. Matthew Huffman, who with National Guard Operation Iraqi Freedom and Enduring Freedom was hit with grenade shrapnel in his right arm and the back of both legs along with suffering a concussion.
The success of the Ducks and Bucks is a result of the involvement from the entire community, including over 40 business and individual sponsors, organizational sponsors. They include the Arthur G. Depew Memorial Ovid VFW Post #6200, Lt. Cyrus Garnsey III Seneca Falls Post #1323, Seneca County Cornell Cooperative Extension, Seneca Falls Ducks Unlimited Chapter, Pro Carpet and Bruce Henry Properties/Bonadent 500, members of the Kuneytown Sportsmen Club, the 18 member of the WWIA Event Committee, the waterfowl hunting guides and outfitters that included BU Outfitters, Frontenac Fowler Guide Service, Canoga Creek Outfitters, deer hunting guides that included Keith Tidball, Eric Riegel, Scott Ridley, Kenny Lisk and John Nolander, Earl Martin (for allowing the wounded warriors to hunt deer in Deer Haven Park and observe the white deer), members of the state Environmental Conservation Police, Steve and Jeannie Blaisdell (for their lodging donation), Henry Arms, Baron Engraving and all those individuals that attended the celebration banquet to honor the wounded warriors and help raise funds for future events.
The silent auction, raffles and auction at the Ducks and Bucks Banquet reinforced the generosity of the supporters. Bids on auction item were extremely generous and, in some cases, the purchased items were donated back to the wounded warriors being honored. For example, District Manager of Seneca Meadows Kyle Black made the highest bid of $2,200 for a Henry rifle. He then donated it back so it could be raffled off between the five honorees. Eric Riegel also donated a firearm he had previously won to be raffled off. To emphasize the support this event has, Lt. Col. McDaniel presented Keith Tidball and the Ducks and Bucks event with a plaque for raising $70,000 during the organization's first four years.
This year's banquet was held on the birthday of the United States Marine Corps and the day before Veterans Day. Keith Tidball made it very clear why so many businesses, organizations and individuals supported, contributed to and attended the event: "We're here today to honor our heroes, to remember their achievements, their courage and their dedication, and to say thank you for their sacrifices. Thinking of the heroes who join us in this group today and those who are here only in spirit, a person can't help but feel awed by the enormity of what we encounter. We are in the midst of patriots and the family and friends of those who have nobly served."
For more information on WWIA and Ducks & Bucks, contact Keith Tidball, Chapter Leader for WWIA Finger Lakes Chapter, at kgtidball@yahoo.com.
EARLY DEER, BEAR HARVEST RESULTS
The state Department of Environmental Conservation has reported that deer hunters in New York state have reported more success in 2018 than last year through the end of the regular big game season.
Through Dec. 16, hunters reported taking approximately 14 percent more deer in the Northern Zone and 11 percent more deer in the Southern Zone, compared to the same period in 2017. Reports from the Southern Zone and Northern Zone are up more than 26 percent and 33 percent from 2016 numbers, respectively, indicating an increase in harvest over the past three hunting seasons.
At the final weekend of the Southern Zone late bow and muzzleloader season, hunters reported 94,515 deer in 2018, compared with 85,288 in 2017 and 75,073 in 2016 through the same period. Similarly, in the Northern Zone, hunters have reported 14,458 deer in 2018, compared with 12,687 in 2017, and 10,894 in 2016.
In regard to the bear take, change in bear harvest varied by region this year. Hunters have reported taking 670 bears in the Southern Zone, compared to 884 at this point last year and 863 in 2016. In contrast, harvest reports increased in the Northern Zone, with 396 bears reported in 2018, compared to 302 bears at this point in 2017 and 464 bears in 2016.
If you still want a chance to take a deer locally, there are deer hunting opportunities in the Deer Management Focus Area in central Tompkins County that runs from Jan. 12-31. To obtain more information on this additional hunting opportunity and get a Deer Management Focus Area permit, visit the DEC website at www.dec.ny.gov/outdoor/82382.html.
A final tally of the seasons' deer and bear harvests will be released early this year and I will provide a more detailed account of the deer and bear take locally.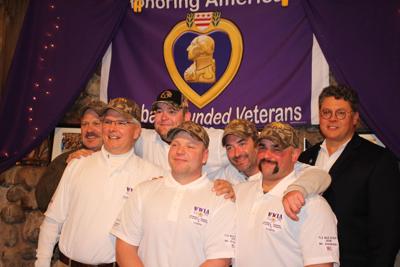 Guests at the 2018 Finger Lakes Ducks and Bucks Event included, from left, John McDaniel (founder of Wounded Warrior In Action), honorees William "Bill" Ring, Matthew Huffman, Derek Van Buren, Micah Welintukonis and Wesley Black, and WWIA Finger Lakes chapter leader Keith Tidball.
How this Virginia hunt club helps wounded vets escape their pain
When you're looking for an escape, 10,000 acres in Brunswick County is a good place to start.
Members of the Great Creek Hunt Club arrive there by the dozens every fall.
"We just have a good time. It's a lot of fun," Mike Tripp, from Henrico, said.
Friendships here stretch back decades, but this autumn a few strangers are welcomed with open arms — like the Veterans with Wounded Warriors in Action.
Each soldier or Marine, like Scott Mallard from North Carolina, has earned a Purple Heart or two in battle.
"I was in a Humvee that ran over an IED and I was shot in the hand. I was shot in the hand," Mallard said.
The four-day all expenses paid trip helps with long road to recovery.
"I am so humbled by the reception we got. And all the men who came out to support us its humbling," Scott said.
Andy Wilson from Chesterfield said it's an honor rolling out the red carpet.
"We've made lifelong friends hosting this event," Andy said. "We obviously can't imagine what they went through, but what little we can give back it is incredible for us and the feedback we get is incredible for them. Within five or 10 minutes they feel like they're home."
Iraq War veteran and Texan Rolando Perez said his stress seems to vanish in Virginia.
"It's priceless. It's definitely priceless," Rolando said. "It kind of brings us back full circle here. We leave here kind of in peace… to continue on."
Wounded Warriors in Action's Nick Fox, himself a retired Marine and Purple Heart recipient, sees a change every time he guides fellow veterans through the woods.
"We send down about three veterans. Small group so it's more sociable," Fox said. "Some things they have to live with for the rest of their lives, but I think they make bonds and friendships for a lifetime."
Mike Tripp said each hero guest deserves this.
"Oh yeah. It's humbling. It really is," Mike said. "Like I said, I tear up just talking about it. Can't help it. Its tops. Tops for me. I love it."
Randy Bagwell, a soldier from Texas, spent more than a year recovering from injuries caused by a roadside bomb. He knows one way to show his appreciation for his heartfelt welcome and escape in the woods.
"After I get out of the military, I want to pay this forward," he said. "I want to do what they've done for me and help my fellow veterans because it feels great to take care of people."
Wounded Warriors in Action help about 300 veterans each year at approximately 50 events nationwide. The Great Creek Hunt Club will invite another group of veterans to Virginia next spring for a turkey hunt.
Organization asks hunters to donate their 'Hides for Heroes' to benefit veterans
As the deer hunting season gets underway, what are you planning to do with your hide? Hides for Heroes has an idea.
Started in 2012 by Dave Hintz, of Waupaca, Hides for Heroes asks hunters to donate deer hides to benefit the Wounded Warriors in Action Foundation Inc. Based out of Florida, the foundation began with retired Lt. Col. John McDaniel taking Wounded Warriors on fishing and hunting trips, before growing into a nationwide nonprofit organization which offers Purple Heart recipients opportunities to participate outdoor expedition for no charge, according to its website.
While the organization is national, it impacts Wisconsin veterans. One of the camps utilized by the nonprofit is Camp Hackett, located outside of Phillips. The camp includes nearly 600 acres of state property and is home to ruffled geese, foxes, bears, beavers, whitetail deer and more.
Touched by its mission, Rachel Walters, of Fond du Lac, wanted to help the organization after learning about it through a news broadcast out of Green Bay. Throughout her previous work, she had come in contact with many veterans and sought an avenue to expand the help she could offer to them. Hides for Heroes offered a simple way to do so, she said.
With many of the collection boxes in areas including Waupaca, Borth, Amherst, Weyauwega and more, Walters offered to bring Hintz's mission to Fond du Lac and Winnebago counties. Already networking for her job, Walters believed she could also network for the organization.
To hunters, Hides for Heroes ask hunters what they are going to do with their hides.
"What are you doing to do with another pair of gloves?" Walters said. "I'm always like, 'Just give me your hide because you're not going to get much from it.'"
Through boxes in Fond du Lac, Oshkosh and Ripon, Hides for Heroes collected 200 hides from the area in 2017. Meeting in Winneconne, Walters handed off the hides to Hintz, who, with items donated from his employer, Waupua Foundry, then salted them and sold them to a broker. Last year, even with a decrease in hide prices, $7,533 was presented to the Wounded Warriors in Action Foundation to assist veterans.
This year, the Fond du Lac and Oshkosh areas will have at least six boxes for hunters to fill with their hides. Statewide, Walters looks to use her connections to bring Stevens Point into the loop as well. Boxes will be available into January, and Hides for Heroes hopes to have a sizable haul by the end of it.
"All that donate say they do because it's a good cause," she said.
Want to contribute to Hides for Heroes?
Boxes can be found locally at:
Dutch's Trading Post, 258 N. Main St., Fond du Lac
The Cabin, N7562 Lakeshore Drive, Fond du Lac
The Nuthouse, 5351 Fond du Lac County Road D, Fond du Lac
Big Rig Chrome, 3735 S. Washburn St., Oshkosh
Fishtales Bait Shop, 4050 County A, Oshkosh
City of Ripon Public Works Garage, 570 Aspen St., Ripon 
For more information, visit facebook.com/pg/WoundedWarriorsHides4Heros or call Rachel Walters at 920-251-1635. 
OUTDOORS: WWIA Upland Hunt in Wayne County still going strong
The ninth annual Wounded Warriors In Action Upland Hunt and Retreat enabled two Purple Heart veterans a chance to do some game hunting while their spouses were treated to a wine tour, along with brunch and a spa treatment at Woodcliff hotel and Spa in Fairport.
The annual event is the brainchild of Jim "JR" Reisdorf. Reisdorf, a retired Macedon businessman and Vietnam veteran, saw a program on television that caught his attention.
"I had issues when I returned from combat, and we didn't have any support groups back then," Reisdorf said at the time. "The program I watched was about an organization called Wounded Warriors in Action, and it featured a hunt organized exclusively for wounded warriors."
Reisdorf contacted retired Lt. Col. John McDaniel, the founder of WWIA.
"Jim and I started the upland hunt in 2010, and it was only for the veterans," said JR's wife, Mary Lou. "During the 2011 event we connected with one of the wounded warriors that lived next to us at our winter home in North Carolina. Shawn Horsley and his wife, Fae, were our neighbors, and Fae convinced me to invite the wives to future WWIA events. She was instrumental for having the spouses accompany the veterans.
"In 2012 we added the wives for the weekend event."
While the wives were off doing their thing, the veterans hunted pheasants for two days. On Sunday night the Patriot Guard Riders motorcycle group escorted the two wounded warriors and their wives to Newark for dinner, culminating another memorable weekend for the soldiers.
JR Reisdorf passed away Nov. 7, 2013, but Mary Lou wasn't about the let the event her husband founded disappear.
"I continue to feel so blessed to be an associate of WWIA and have this opportunity to give back to our warriors for all the sacrifices they have made so that we have the freedoms we do in America," Mary Lou Reisdorf said. "God bless them, and I welcome them home.
"To the wives, I thank you for all the sacrifices and caretaking you endure before, during and after your husband returns home. May God bless all of our military and keep them safe."
WWIA is a 501©(3) charity that devotes all of its energy and resources to supporting Purple Heart recipients by connecting them to nature and uniting them with people and communities who care about their well-being. During the past fiscal year 93.2 percent of donations supported WWIA events and operations directly.
WOUNDED WARRIORS IN ACTION SAVOR DEL LAGO
Del Lago hosted another successful Savor del Lago event on May 29 with proceeds benefitting the Wounded Warriors in Action Foundation Inc. (WWIA), Finger Lakes Chapter. WWIA serves our nation's combat-wounded Purple Heart recipients by providing world-class outdoor sporting activities as a means to recognize and honor their sacrifice, encourage independence and connections with communities, and promote healing and wellness through camaraderie and a shared passion for the outdoors.
As the beneficiary for the May Savor del Lago, WWIA was presented with a $1,216 check from del Lago resort and casino.
The next Savor del Lago will event will be held from 4 to 8 p.m. on Saturday, June 30, and will benefit the Seneca Falls Read & Feed Program. Guests can enjoy wine and beer tastings from over 12 Finger Lakes Regional wineries, breweries, and cideries. Savor del Lago is free to Massimo and Elite players, $5 for Premier and Signature players, and $10 for non-carded guests.
Wounded Warriors at Whispering Pines – by Len Lisenbee
My first glimpse of the group of real heroes was from a hilltop as they followed the dogs into a weed-choked swale. Their hunter-orange vests and hats made their movements easy to follow from my distant vantage point. And when two pheasants flushed and flew in different directions, four shots rang out.
I fell in behind them as they worked the rest of that cover and then headed for another nearby field. The three hunters moved along quietly as the dogs made castes in front of them, their attention focused on the hunt and the possibility that more pheasants might explode upward in front of them at any instant.
My first impression was that these were men obviously enjoying the excitement of this hunt. Every aspect was serving to make their quest memorable, from the pleasant temperatures, gentle breezes and clear, blue skies to the efficiency of four well-trained and expertly-handled bird dogs.
Then, without warning, there was the classic point as one of the dogs locked on a bird. Two of the hunters moved up quickly on either side, and the cock pheasant exploded skyward. One shot, and the bird fell 25 yards away in a weed thicket. The dog raced in, located the downed bird, and retrieved it, bringing it directly to the hunter who fired the shot and placing it in his hand. Perfect! Just perfect!
These three men, American heroes all, were participating in a quality upland bird hunt organized by Wounded Warriors In Action Foundation (WWIAF) and donated by Charlie Buisch, owner and operator of Whispering Pines Shooting Preserve in Lyons, NY. Each had been severely wounded in either Iraq or Afghanistan, and each was awarded the Purple Heart medal for his sacrifice.
The soldiers were Paul Fritzsche, Staff Sergeant, USA, from West Jordan, UT, Shawn Horsley, Gunnery Sergeant, USMC, from Holly Ridge, NC, and Tony Wisyanski, Master Sergeant (Ret), USA, from Naples FL. All of them were severely wounded in battle, and all had spent a lot of time in recovery.
After the day's hunting was over on Saturday, I had an opportunity to talk with each of these incredible men. Each was soft-spoken and humble as they spoke of their hunting activities and how exciting this hunt was. Tony said he enjoyed this pheasant hunting experience immensely. Shawn was equally impressed, and thought it was "pretty cool." Paul told he he had lots of fun and he "enjoyed the great country" (on the preserve).
Their first activity upon arrival at Whispering Pines was a gun and hunting safety class, followed by shooting lots of rounds on a sporting clays course with shotguns donated by Jim Reisdorf, a WWIAF Associate. Then, after a hearty lunch, they took to the fields to hunt some pheasants. I managed to catch up to and follow them during this time.
While all of them had hunted before, none of them had ever hunted ringneck pheasants. This was a whole new experience. Paul had hunted deer, elk and birds in his native Utah. Shawn had hunted deer, rabbits and quail in North Carolina. And Tony had hunted deer in NC and Canada geese on the Eastern Shore of Maryland.
Tane Kehlenbeck, a long time employee of Kodak in Rochester and a hunter and guide at Whispering Pines, volunteered as a guide for the Saturday hunt. His two bird dogs were awesome, and accounted for their share of the birds in the bag for that day. He told me that this was "a great experience" for him personally. His broad smile served as proof of that statement.
John McDaniel, a familiar face from a similar WWIAF hunt that occurred last September at Whispering Pines, is the organizer and coordinator of WWIAF activities nation-wide. He lives in Apollo Beach, Florida, and is himself a veteran of Special Forces. And after talking with him extensively, I believe his every waking moment is spent on behalf of "his guys" and seeing that they get as many great outdoor opportunities as he can arrange and deliver.
The goals of the WWIAF are truly laudable. They want to: Increase Self-Reliance, Bolster Self-Confidence, Enjoy the Great Outdoors, Promote Spiritual Healing and Wellness, and Instill a Sense of Belonging to each vet that joins them for a hunting or fishing experience.
John also voiced his opinion on this hunt. To him, "it is a very humbling experience that is shared with real heroes." Each and every WWIAF hunting or fishing event could be considered a "trip of a lifetime." But the wonderful part of this organization is that those trips are offered as an almost non-stop stream of opportunities.
Because the quality of each experience receives the most emphasis, the number of vets participating in any one event is generally limited to one to three individuals, with two being the most common number. And the various destinations read like a list of dream hunts and fishing trips, from trophy deer hunting in South Dakotaor elk hunting in Colorado to fishing for giant tarpon and SCUBA Diving in the Florida Keys. Accommodations range from first class hotels to stays at private hunting and fishing lodges. And transportation, more often than not, is on private jets with the use donated by various individuals and corporations. Saturday night these guys were treated to a game dinner that boasted such treats as pheasant stroganoff and may other entrees best described as a culinary delight. A lot of friends and neighbors stopped by to meet these three guys and enjoy the food with them. Jim Reisdorf probably said it best with, "It was a memorable event."
On Sunday the three soldiers returned to the preserve for more pheasant and chucker partridge hunting. And once again the guides and dogs performed well, allowing each of the hunters to have many shots at the flushing birds. So how did they do? They managed to take a total of 20 upland game birds over the two days of hunting. All of the bagged birds were cleaned and frozen, and they went home with the soldiers on Monday afternoon.
Whispering Pines is a first class hunting facility of rolling hills, classic swales, weedy thickets, woodlands, and crop and hay fields that is owned by Charlie and Carol Buisch. While memberships are encouraged, it is open to the public for day hunts by reservation. It is one of the most picturesque pieces of real estate I have ever had the pleasure of hunting. Buisch's opinion of this hunt was simple and direct. According to him, these men gave a lot of themselves in their effort to preserve liberty and freedom for him and his country. He wanted to say thanks with more than just words. Donating a hunt, complete with lots of pheasants and the use of the entire hunting facility for several days, was his display of gratitude. Much of the logistics required to put a hunt such as this one together, such as travel and equipment, are donated by individuals and corporations. But there are other expenses that must also be covered. For this hunt, the "extra" costs amounted to nearly $2,000.00, which McDaniel is responsible for. And in this tight economy, donations are way down.
If any of my 93 semi-regular readers would like to donate to this worthy program, they can send their check to Wounded Worriers In Action Foundation, 6516 Dolphin Cove, Apollo Beach, FL 33572. If they include "Whispering Pines hunt" as a memo, their donation will be dedicated to paying for this hunt.
Len Lisenbee is an outdoor writer living in Rushville, NY and the Canandaigua Daily Messenger newspaper's Outdoor Columnist.