Wayne Brewer: Wounded warriors experience the Finger Lakes
The Finger Lakes Ducks and Bucks Event is held annually in partnership with the Wounded Warriors In Action Foundation and hosted by the Kuneytown Sportsmens Club. The event honors wounded Purple Heart recipients from across the United States with the goal of facilitating outdoor recreation as a form of respite, restoration, recreation and camaraderie for our nation's combat-wounded heroes. During this year's fifth annual event, held the week before Veteran's Day, five Purple Heart recipients experienced three days of guided whitetail deer and waterfowl hunting. The wounded warriors had the opportunity to observe Seneca County's white deer, take a buck with a crossbow, hunt waterfowl and participate in a hunting trip the first time since their injuries. Best of all, the wounded warriors and their guides made life-long memories.
The wounded warriors stayed at a house on Cayuga Lake that was donated by a family for this event. During their stay the wounded warriors dined on the game they harvested. They also learned about game preparation and cooking from Cornell Cooperative Extension nutrition educator and creator of Wild Harvest Table, Moira Tidball. Wild Harvest Table is a resource for game and fish recipes, nutrition information and preparation techniques.
The three-day hunting trip ended with a banquet at Kuneytown Sportsmens Club to honor the heroes and to raise funds for future events.
In his opening remarks, Master of Ceremonies Keith Tidball, Chapter Leader for the Wounded Warrior In Action Finger Lakes Chapter, stated said the following: "Over five years ago, when we saw an opportunity to host combat, wounded warriors, Purple Heart recipients, men and women who have bled for our freedom and our way of life, who have defended our rights to life, liberty and the pursuit of happiness, and especially in our case the happiness that comes with pursuit of fish and game in field, forest, lake or stream, well, we literally jumped at the opportunity."
Another important guest at this year's banquet was retired Army Lt. Col. John McDaniel, who is the founder and president of Wounded Warriors in Action. McDaniel felt that his service to the nation was not yet finished and in 2007 he established WWIA. He started as a concerned citizen taking a few wounded warriors out on hunting and fishing trips, but quickly saw that the need for this kind of healing was greater than he could support on his own. In 2009 WWIA was granted 501 (C)(3) nonprofit status and has been changing the lives of American Heroes across the country ever since.
The goal of WWIA is to make a difference in the life of a Purple Heart veteran by providing world-class outdoor sporting activities to the wounded warriors to assist in their recovery efforts at no cost to them. The sporting activities are a means to recognize and honor their sacrifice, encourage independence and connections to communities, and promote healing and wellness through camaraderie and a shared passion for the outdoors.
WWIA serves over 200 Purple Heart recipients each year at over 50 events across North America. Some of the events include guided waterfowl hunting in Maryland; duck, goose, pheasant and chucker hunting in Alabama; deer, wild pigs, pheasant and coyote hunting in Wisconsin; turkey hunting and wild hog in South Carolina; spring turkey hunting in Florida; turkey hunting in Virginia; cast and blast in Kansas; turkey hunting in Tennessee; inshore fishing in Texas; bill fishing in Mexico; halibut fishing in Alaska; bass fishing in Kentucky; bear hunting in Maine and walleye fish in Lake Erie.
The Purple Heart is awarded to members of the armed forces of the United States who are wounded by an instrument of war in the hands of the enemy and posthumously to the next of kin in the name of those who are killed in action or die of wounds received in action. It is a combat decoration that McDaniel said was a medal no one wants to receive, but everyone greatly honors.
The honored guests at this year's Finger Lakes Ducks and Bucks were: Reserve National Guard Staff Sgt. Derek Van Buren, who suffered multiple shrapnel wounds and traumatic brain injuries a Russian portable, reusable unguided shoulder launched anti-tank rocket-propelled grenade launcher, which hit his gun truck in Afghanistan; Marine Cpl. William "Bill" Ring, who suffered shrapnel wounds and PTSD in Vietnam; Army Staff Sgt. Wesley Black E6, who has PTSF, TBI and is partially deaf in his right ear from an IED blast and also has stage 4 colon cancer with a portion of his intestine removed (Wesley is an active firefighter and EMT); Army Sgt. 1st Class Micah Welintukonis, who was shot in his left arm and took a direct hit from a suicide bomber with shrapnel in his left arm, face and abdomen in Kosovo that put him in a medically induced coma for two weeks and suffers from TBI; Army Staff Sgt. Matthew Huffman, who with National Guard Operation Iraqi Freedom and Enduring Freedom was hit with grenade shrapnel in his right arm and the back of both legs along with suffering a concussion.
The success of the Ducks and Bucks is a result of the involvement from the entire community, including over 40 business and individual sponsors, organizational sponsors. They include the Arthur G. Depew Memorial Ovid VFW Post #6200, Lt. Cyrus Garnsey III Seneca Falls Post #1323, Seneca County Cornell Cooperative Extension, Seneca Falls Ducks Unlimited Chapter, Pro Carpet and Bruce Henry Properties/Bonadent 500, members of the Kuneytown Sportsmen Club, the 18 member of the WWIA Event Committee, the waterfowl hunting guides and outfitters that included BU Outfitters, Frontenac Fowler Guide Service, Canoga Creek Outfitters, deer hunting guides that included Keith Tidball, Eric Riegel, Scott Ridley, Kenny Lisk and John Nolander, Earl Martin (for allowing the wounded warriors to hunt deer in Deer Haven Park and observe the white deer), members of the state Environmental Conservation Police, Steve and Jeannie Blaisdell (for their lodging donation), Henry Arms, Baron Engraving and all those individuals that attended the celebration banquet to honor the wounded warriors and help raise funds for future events.
The silent auction, raffles and auction at the Ducks and Bucks Banquet reinforced the generosity of the supporters. Bids on auction item were extremely generous and, in some cases, the purchased items were donated back to the wounded warriors being honored. For example, District Manager of Seneca Meadows Kyle Black made the highest bid of $2,200 for a Henry rifle. He then donated it back so it could be raffled off between the five honorees. Eric Riegel also donated a firearm he had previously won to be raffled off. To emphasize the support this event has, Lt. Col. McDaniel presented Keith Tidball and the Ducks and Bucks event with a plaque for raising $70,000 during the organization's first four years.
This year's banquet was held on the birthday of the United States Marine Corps and the day before Veterans Day. Keith Tidball made it very clear why so many businesses, organizations and individuals supported, contributed to and attended the event: "We're here today to honor our heroes, to remember their achievements, their courage and their dedication, and to say thank you for their sacrifices. Thinking of the heroes who join us in this group today and those who are here only in spirit, a person can't help but feel awed by the enormity of what we encounter. We are in the midst of patriots and the family and friends of those who have nobly served."
For more information on WWIA and Ducks & Bucks, contact Keith Tidball, Chapter Leader for WWIA Finger Lakes Chapter, at kgtidball@yahoo.com.
EARLY DEER, BEAR HARVEST RESULTS
The state Department of Environmental Conservation has reported that deer hunters in New York state have reported more success in 2018 than last year through the end of the regular big game season.
Through Dec. 16, hunters reported taking approximately 14 percent more deer in the Northern Zone and 11 percent more deer in the Southern Zone, compared to the same period in 2017. Reports from the Southern Zone and Northern Zone are up more than 26 percent and 33 percent from 2016 numbers, respectively, indicating an increase in harvest over the past three hunting seasons.
At the final weekend of the Southern Zone late bow and muzzleloader season, hunters reported 94,515 deer in 2018, compared with 85,288 in 2017 and 75,073 in 2016 through the same period. Similarly, in the Northern Zone, hunters have reported 14,458 deer in 2018, compared with 12,687 in 2017, and 10,894 in 2016.
In regard to the bear take, change in bear harvest varied by region this year. Hunters have reported taking 670 bears in the Southern Zone, compared to 884 at this point last year and 863 in 2016. In contrast, harvest reports increased in the Northern Zone, with 396 bears reported in 2018, compared to 302 bears at this point in 2017 and 464 bears in 2016.
If you still want a chance to take a deer locally, there are deer hunting opportunities in the Deer Management Focus Area in central Tompkins County that runs from Jan. 12-31. To obtain more information on this additional hunting opportunity and get a Deer Management Focus Area permit, visit the DEC website at www.dec.ny.gov/outdoor/82382.html.
A final tally of the seasons' deer and bear harvests will be released early this year and I will provide a more detailed account of the deer and bear take locally.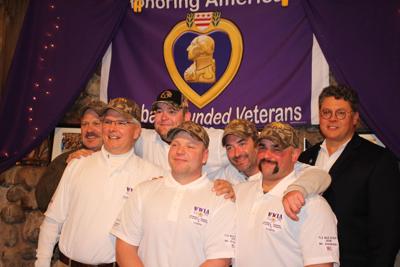 Guests at the 2018 Finger Lakes Ducks and Bucks Event included, from left, John McDaniel (founder of Wounded Warrior In Action), honorees William "Bill" Ring, Matthew Huffman, Derek Van Buren, Micah Welintukonis and Wesley Black, and WWIA Finger Lakes chapter leader Keith Tidball.